Coworking in Café KleinMein
In the heart of Friedrichshain
In KleinMein Coworking Space you can concentrate on your to-dos and projects. We offer you the atmosphere of Coworking in a café. Enjoy full flexibility with hourly rates.
You're welcome every day.
It's up to you, how long you're working.
Fast Wifi, comfy seats, free drink, electricity, water


Fast Wifi, comfy seats, free drink, electricity, water


Fast Wifi, comfy seats, free drink, electricity, water

Coworking at Frankfurter Allee
3 minutes from S+U-Bahnhof Frankfurter Allee
Pack your laptop, smartphone, headphones and charging cables and come to us. You will find us at Frankfurter Allee in Friedrichshain.
Einfach ausprobieren
Mo - Sun  11am – 6pm
Your flexible workspace: Coworking in a café isn't only inspiring, it's also delicious. Have a look into our menu and get hungry.
You get a free drink of your choice everyday. Enjoy freshly grinded coffee or a tea while starting your workday.
We serve your free coffee with fresh organic milk. Also with Soy Milk / Oat Milk / lactosefree and decaf coffee.
FAQ
Frequently Asked Questions
How do I get to KleinMein?
KleinMein is 3 minutes from S+U-Bahnhof Frankfurter Allee and U-Bahnhof Samariterstraße. You can reach almost any place in Berlin from here. With Ringbahn S41 you are at Ostkreuz within 2 minutes. With U5 you reach Alexanderplatz within 10 minutes.
Is there good coffee? And what if I get hungry?
Finally you're asking about our great strength! KleinMein combines café and coworking. Grounded coffee, tea and freshly squeezed juices provide you with energy and vitamins. When you get hungry, you can order fresh focaccias, cakes, salads and risottos onto your working place. A big water carafe hydrates you during the day. You also get a free drink of your choice every day.
Is the Coworking Spoce equipped well?
At our large wooden tables you can work creatively. Our comfortable and upholstered chairs ensure that you don't get backpain. LED spots provide a warm, bright and concentrated light at your workplace. You can log in to our fast internet via Wifii. Develop prototypes or take notes on our 2 meter wide blackboard. A large water carafe ensures that you don't get thirsty. You can also enjoy all the benefits of coworking in the café: you'll love our menu.
Is the internet really that fast?
It's fast, fast, very fast! We use Wifi access points that can deal with large amounts of data and devices. The Dual Band Signal automatically separates between 2.4GhZ and 5GhZ devices.
What are the opening hours?
The Coworking Space is available
Mo - Sun  11am – 6pm
. The Café is open Mon - Sun 11am - 6pm.
What tariffs are available for booking?
We have designed our tariffs as flexibly as possible. You can choose between:
1 Hour Ticket 5 Euro
3 Hour Ticket 10 Euro
Dayticket 15 Euro
You can also buy 11 day tickets for 150 euros and we give you a day for free.
Do I have to reserve a workingplace in advance?
Yes, that is meaningful, so we can have the right place ready for you.
Do I have to sign-up in advance?
Our coworkers don't have to sign up. You can always come by spontaneously.
Do I have to be a member to use the Coworking Space?
No. You don't have to sign anything. Just tell our baristas you want to use our Coworking Space and you get access to fast internet. That's it! No leases, no memberships!
Are there Fixdesk / Flexdesk options?
We offer different hourly tickets and day tickets. You have no monthly costs.
Can I make business calls in the Coworking Space?
Yes. Please just take care of the other coworkers.
Can I deduct coworking fees from tax?
Yes. Please ask our baristas for a receipt. It contains all the important information needed to claim the costs.
Who uses the KleinMein Coworking Space?
At KleinMein Coworking Space, you'll meet freelancers, self-employed coworkers, company founders and employees. For us, it doesn't matter what industry our coworkers are coming from. We offer you an ideal working atmosphere where you are among other people. You can start communicating with others or work for yourself. Also, if you want to work with your team, you can do that.
Can I come over with my team?
Yes. You can work with your team here. Up to 10 people can work as a team.
Can I use KleinMein for my event?
Please contact us reservation@kleinmein.gr, and discuss with us your ideas and requirements and we will find a solution.
Coworking Café in Berlin
Insider tipp for Inspiration
Office
Home Office
Coworking Space
At KleinMein the concept of work contrasts with our everyday office life: we offer our coworkers the necessary atmosphere to be productive, creative and innovative. And to be inspired by others.
Coworking in Café KleinMein: insider tip between Rigaer Straße and Frankfurter Allee
In April 2016 KleinMein Coffee & Food was grinding the first coffee and conquered the hearts of its neighbors. Until today the Scandinavian-inspired café has not only established itself as a living room in Berlin's Denkerkiez Friedrichshain. Located between Frankfurter Allee and Rigaer Str., KleinMein Coworking Space has developed an open working culture that suits the environment. The S-Bahn station Frankfurter Allee is also 3 minutes away. With the subway line 5 you reach the Alexanderplatz in 10 minutes. With the S-Bahn line 41 you come within 1 station from Ostkreuz to KleinMein.
Stylish café & workplace in Friedrichshain
While starting with the first preparations for the construction of the space were made in October 2017, we have looked at the needs of a coworker:
generous workplace made out of natural materials
comfortable and back-friendly chairs
darkened room with concentrated spot lighting on the workplace
large wooden elements for optimized acoustics
several sockets per table
workpools for up to 4 people
individual tables for up to 2 persons
fast wifi with dual band (2.4Ghz and 5Ghz)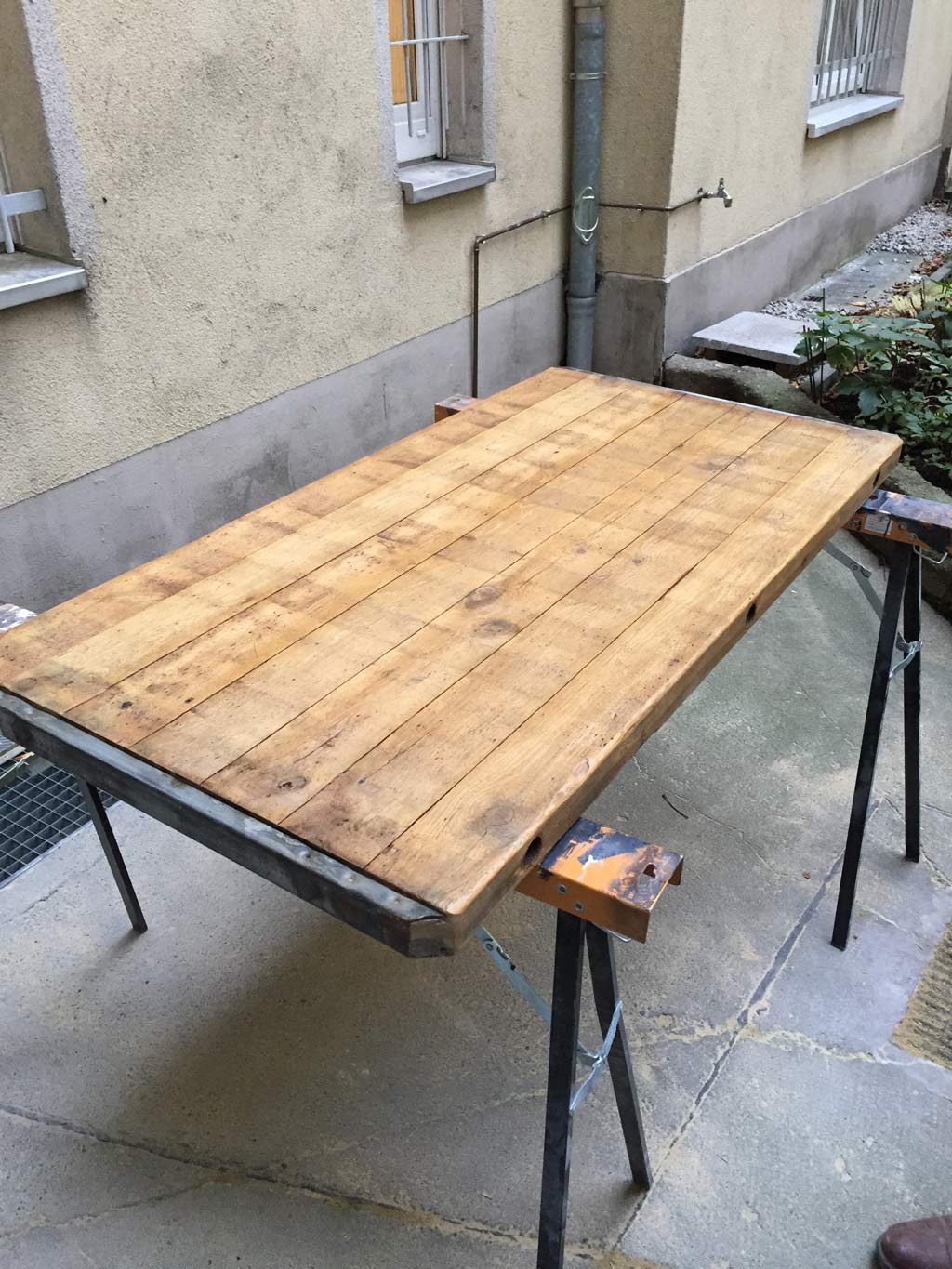 Unlike classic offices or regular Coworking Spaces, KleinMein is a fusion of café and work space. Rooms aren't separated from the rest. On the one hand, it creates a natural coffee house atmosphere our coworkers appreciate. On the other hand, the guests are not separated from each other and are able to exchange.
Collaborative working in a café with Coworking Space
Pioneers, freethinkers, individualists and creators in the fields of technology, advertising, film, art, design, fashion, culture and many other economic sectors have with KleinMein a Coworking Space that meets their needs: Our inspired community enjoys not only the well thought out workplaces but also the service of the connected café – in the middle of Berlin Friedrichshain. In addition to focaccia and daily changing cakes, our coworkers can order fresh coffee, flat whites or mint / ginger tea at any time. In our Coworking Space you get a free drink of your choice every day, free water, unlimited access to electricity and fast internet. If you are looking for mental space or a creative workplace in Friedrichshain, head to our Coworking Space. We offer flexible hour tickets. You don't need a membership. You have no monthly fixed costs. Our Baristas can print you out an invoice so you can claim the costs for tax purposes.
What others write about KleinMein
A Project by www.lau.do